Community Engagement
Cultivating Change: Possibility Place Nursery Unveils a New Website!
After much anticipation, we are thrilled to announce the long-awaited launch of our revamped Possibility Place Website, set to go live on Monday, November 20th. Meticulously crafted, this redesign brings forth a distinctive and highly functional online platform tailored to the unique needs of our business. As you explore this blog post, discover the innovative features that make our refreshed website a must-visit. To show our appreciation, we're offering an exclusive 30% off promo code, available to the first 100 orders. Use the promo code FIRST100 at checkout to enjoy your discount starting Monday!
Streamlining Your Native Plant
Selection Process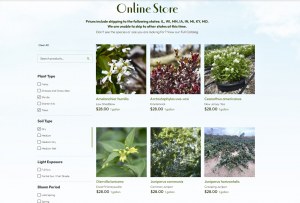 In our continuous effort to provide an exceptional user experience, we've seamlessly merged the Plant Finder filters to our Online Store and Full Catalog creating a unified, user-friendly interface. No more toggling between separate sections – now, as you explore our extensive collection, powerful filters are integrated to narrow down the selections to add to your cart or quote. This enhancement ensures a streamlined and efficient native plant selection process, empowering you to discover the perfect additions to your garden with just a few clicks.
Another added bonus- you now have the option to build and request a quote directly through our catalog.  Instead of creating your list and using the contact form, you can build a quote "cart" and submit your complete list with quantities and sizes as you browse through our full plant catalog.  This is a great new tool for our customers with larger projects looking for full flats of perennials or trees and shrubs in larger sizes.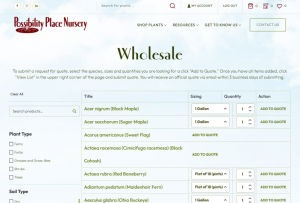 For our esteemed wholesale partners, we understand the importance of a streamlined process. Enter our Wholesale Build-a-Quote feature, a game-changer in the world of native plant procurement. This tool allows you to swiftly find the specific species you're looking for, customize sizes and quantities, and submit directly to our team. No more clicking around or navigating through unnecessary steps – we've optimized the process to ensure a hassle-free experience when submitting your quote request.
Creating an Account for a
Seamless Experience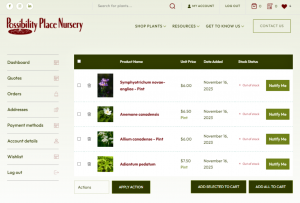 In the past, many faced challenges creating and managing accounts on our old website. Creating an account is now a breeze, offering easy setup and providing features like saving carts and quotes, viewing order and quote status, and creating wishlists. If you had an account on our old website, kindly note that you'll need to make a new account, including re-selecting plants for notifications when they're back in stock.
Exploring the Possibilities
The unveiling of PPN's new website represents more than just a digital upgrade – it's a commitment to empowering our community with knowledge. As we seamlessly integrate user-friendly features, offer educational resources, and streamline the ordering process, we invite you to join us on a journey beyond native plants. Our goal is not only to provide greenery but to arm you with the knowledge needed to cultivate healthier and more diverse ecosystems. Explore the possibilities at www.possibilityplace.com and become a steward of change in fostering sustainable and thriving landscapes.
We appreciate your continued support of Possibility Place Nursery. As a token of our appreciation, we're thrilled to extend a 30% discount to the first 100 customers who make a purchase on our new website. Remember to apply the promo code FIRST100 when checking out to enjoy your exclusive discount. Thank you for being a part of this journey!